About Qian Hu Arowana
仟湖龙鱼
Arowana Research & Development
龙鱼科研与研发
Our Asian Arowana
我们的龙鱼
Latest News
最新消息
Careers
招聘
Contact
联系我们
Others
其他
Home
> Arowana Research & Development 龙鱼科研与研发 >
Arowana R&D
> Gill Operation
Gill Operation
Operation to Correct Gill Curl on Asian Arowana
Specimen: Red Arowana with Gill Curled Out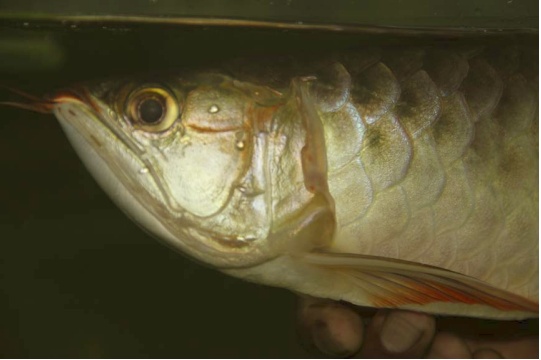 Tools Needed: Tweezers / Scissor / Carbon Knife stone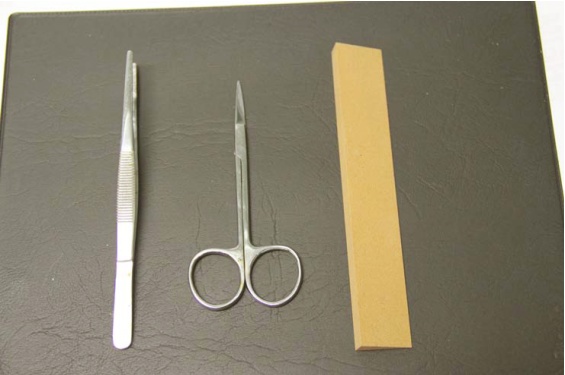 Additional Items Needed: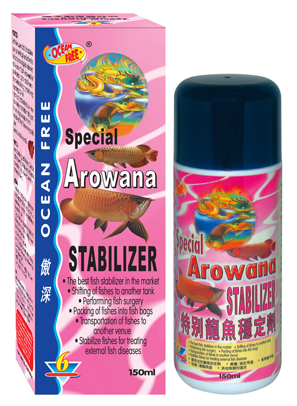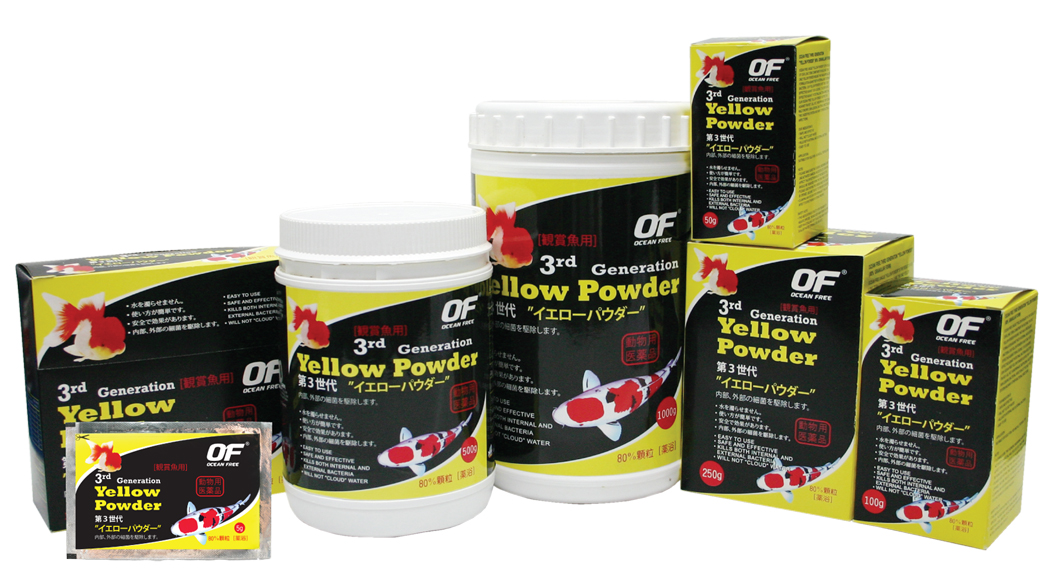 Fish Stabilizer is to prevent the fish from struggling and hurting itself.
Yellow Powder – All round anti-biotic to prevent bacteria infection.
Step 1
Place Arowana in a small tank and add fish stabilizer as per instructions. Wait for the Arowana to become sedated, losing its ability to swim and would not struggle when handled.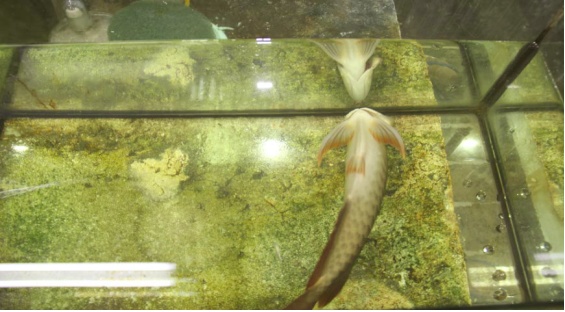 Step 2
Place the Arowana on a wet clean piece of cloth, to begin the operation.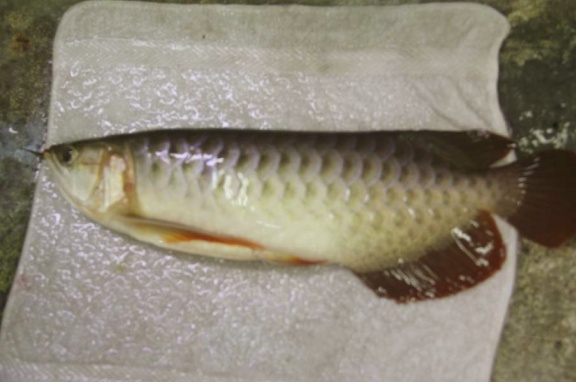 Step 3
Lift up the gill covers with one hand and begin trimming the soft curled out area of the gill cover with a pair of scissor.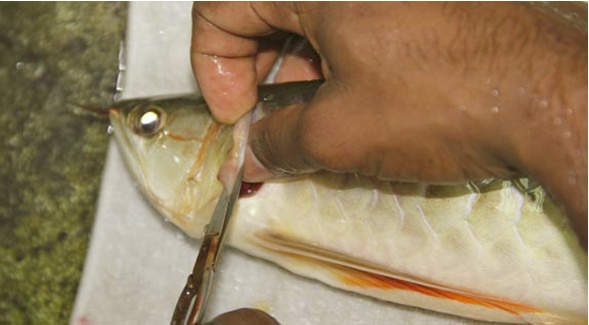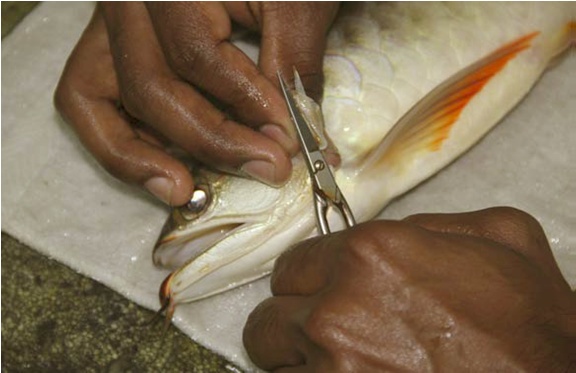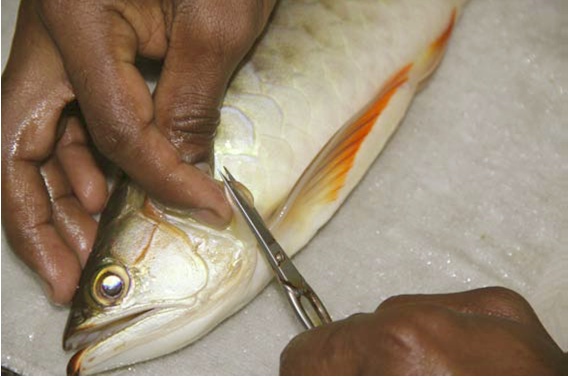 Try and trim as neatly as possible following the shape of the inner cover. It is best to cut in the shape of a half over as much as possible. Do not cut into the inner hard area as it may scar the Arowana for life.
After trimming with a pair of scissor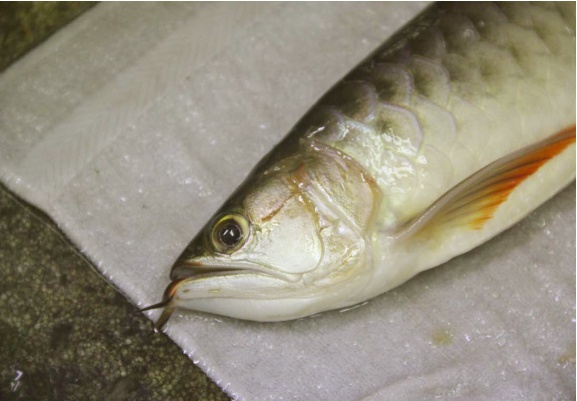 Step 4
Using the Knife stone, carefully file the gill cover downwards from top to bottom, smoothing out the edge. It is important to file down and towards the inside in one motion so that when the cover grows back, it will cover the gills nicely again.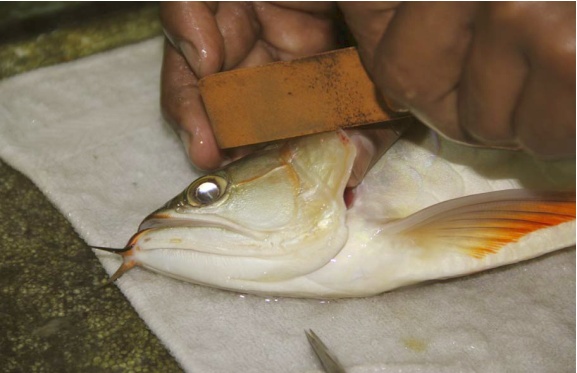 Final Step
Place the Arowana into a clean tank of aerated water and allow it to slowly come to its senses. The final product: a happy Asian Arowana with its gill operated back to its original form.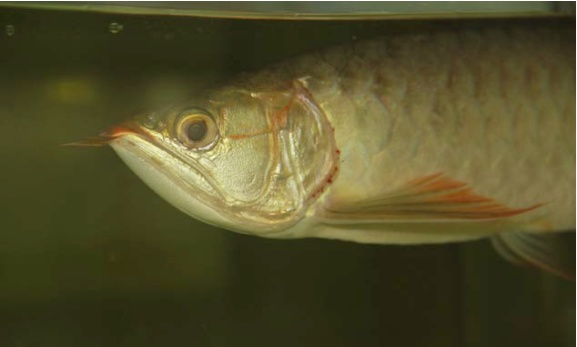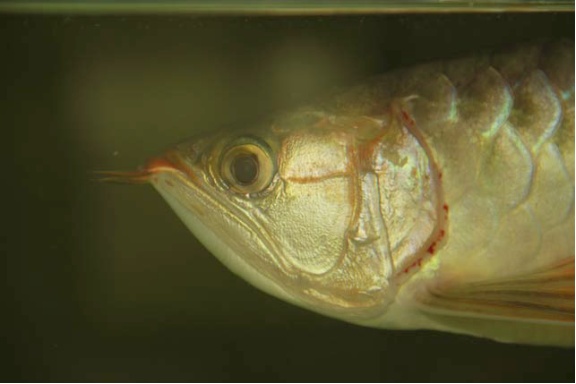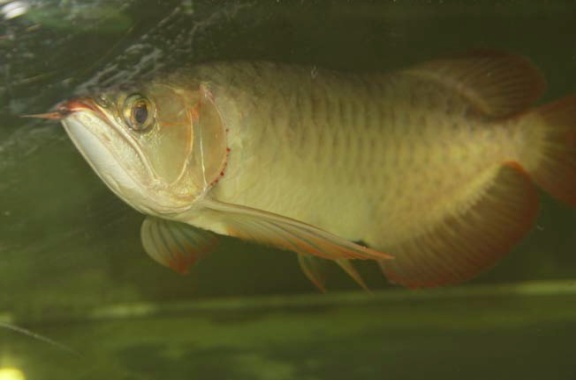 Once the Arowana regains its senses, it would be advisable to treat it with yellow powder (anti-biotic) for the next 3 – 4 days to prevent any bacteria infection.
[1]
---
[1]
Note: Throughout the whole operation, it is very important to keep the Arowana wet and sedated. If the operation is taking longer than usual, dip the Arowana back into the tank with the fish stabilizer for a short while before continuing.